Sometimes it's just nice to be in safe hands. Nobody does this sort of action comedy better than Sandra Bullock. Except maybe the Rock. Why haven't they done a movie together ?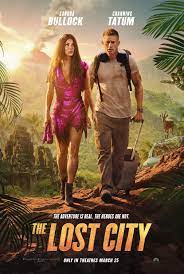 Anyway Sandra is a bored novelist who writes epic romantic adventures but leads a pretty dull life. Suddenly she finds herself kidnapped and off in a real life jungle adventure. Who better to rescue her than gorgeous but dumb cover model Channing Tatum. Answer : almost anyone else.
Expect thrills, spills, evil Daniel Radcliffe, A big cameo and lots of laughs. The Lost City is open now !


We would always be pretty excited for a film that was made just around the corner in the Gleniff Horseshoe and in Donegal but A Hollywood blockbuster that's got rave 5 star reviews and been compared to Gladiator - we're so there.

The Northman is an action-filled epic that follows a young Viking prince on his quest to avenge his father's murder and one of the most requested movies by our customers this year.
The Northman opens this Friday April 15th
Jerry Maguire had us at hello - Operation Mincemeat had us at "We're going to play a trick on Hitler"
This is the true story of how the allies tried to convince the Germans that the D-Day landings where going to be some where other than France involving two intelligence officers, false papers and a corpse.
Based on Ben Macintyres brilliant book, Operation Mincemeat is a must see for any fans of history , intrigue or just love truth is stranger than fiction real life stories.